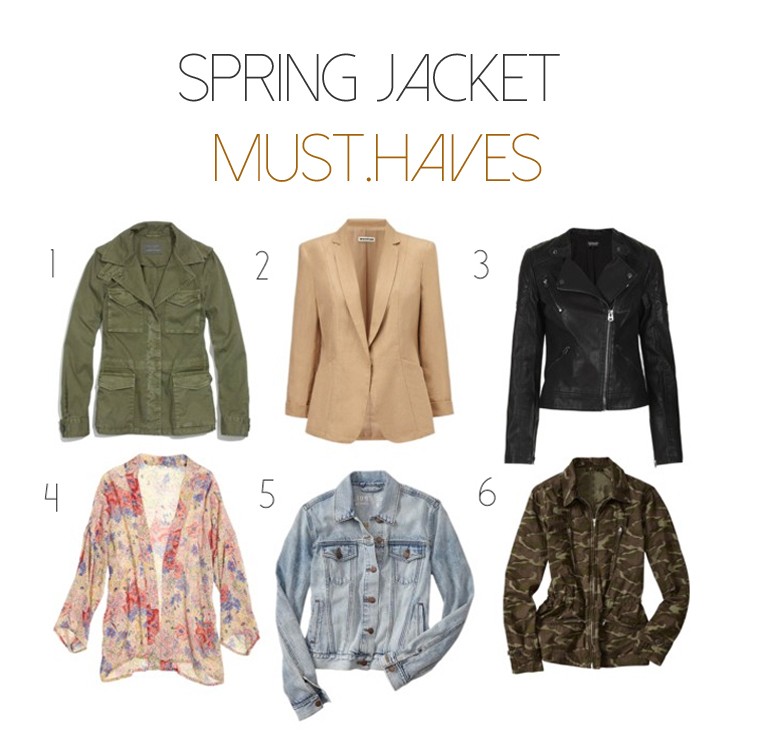 Click photo's above for shopable links
In my last post I talked about how the ever changing Spring weather can catch you off guard with the back and forth days. The best way I've found to combat such madness & to not ruin your look is by equipping yourself with the perfect spring jacket staples. These 6 jackets are going to be your ammunition for looking great this spring. They are all so versatile they can be used in most seasons so each is a perfect investment.
1. Military Jacket: Olive is considered a neutral in the fashion world so it's easy to pair with most colors, and can be dressed up or down.
2. Light Colored Linen Blazer: There is nothing better than a well fitted blazer. The light color makes it wearable through summer. Whether you wear it with a pair of boyfriend jeans and a white tee, or pair it with a floral printed sun dress this is a must have for the spring.
3. Leather Jacket: Okay lets get real, leather jackets aren't a spring staple. They are a
life
staple. Black is the new black. Always. So buy one. You're welcome.
4. Floral Kimono: This is Springs best accessory. Bar none. I have had a lot of people tell me they are afraid of Kimonos. If thats that case for you, start small by trying a shorter length & pairing it with a pair of jeans, a tee & your favorite sandals on those warmer days. But take my word for it, you'll love the flirty feel & you'll be begging for more.
5. Denim Jacket: Jean jackets are back this season & they mean business. Wear it with a skater skirt, wear it with a different wash of denim (yes, this is a thing), wear it over your favorite graphic tee, wear it with lit.er.al.ly
anything
.
6. Camo Jacket: So I am obsessed with my camo jacket. I have literally worn mine every day since I purchased it. It's a problem & I can't stop. But I really don't want to. Camo is a neutral this season. To put it frankly, I think Camo is the new leopard print. At least in my world. Don't get me wrong I've got lots of leopard lovin' still! I love pairing camo with polka dots, with flannel prints, and with an.y.thing neon. Do it. Do it. Do it.
Happy Shopping
Oh! Also, to every human who has said "I can't wear hats." Yes you can. So stop, grab this floppy straw hat & get your spring on.